Cat No.: 20EV050
Description: 2.0 ml Ejection Vials, 50
Manufacturer: Lake Charles Manufacturing
Shipping: $3.50 for first 50, $0.50 for each additional 50.
or contact us at sales@jacobs-online for exact amount BEFORE ORDERING (usually cheaper)
This is for continental USA, standard USPS only -- for other addresses, and/or other shipping options contact us at above address for amount and options before you order.
Specifications: 2.0 ml pliable, unbreakable polypropylene micro centrifuge tubes with attached snap and graduations at 0.5, 1.0, 1.5, 2.0 ml.
Weight: 1.0 gram each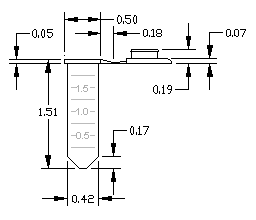 How to Use Ejection Vials
The pictures below are for 1.5ml vials but the techniques are the same.
Make a hole in the small end (cut off the end, drill or melt), thread your igniter through the top and out the bottom, put a drop of CA glue where the wires come through to keep the black powder from leaking out, fill with black powder, close the lid and you are ready to go.
The ejection charge will blow open the lid (may split vial open) and eject your parachute. For a 4" body tube 8" 12" long, just fill with black powder to the 1.5ml level. You might also want to add a bit of wadding on top of the black powder before you close the lid, especially for smaller amounts of black powder, to insure the black powder stays in contact with the igniter. For smaller volume, decrease the amount of black powder accordingly. Be sure to ground test any configuration before launching, add wadding and/or Nomex chute protector, and pack your parachute so it fits loosely in your body tube.
Below shows how easy it is to use these for pre-measured ejection charges. The igniter shown is a homemade one made from the directions on the jacobsrocketry.com web site. Click here for that page.